PATHS Social Emotional Learning
PATHS Social Emotional Learning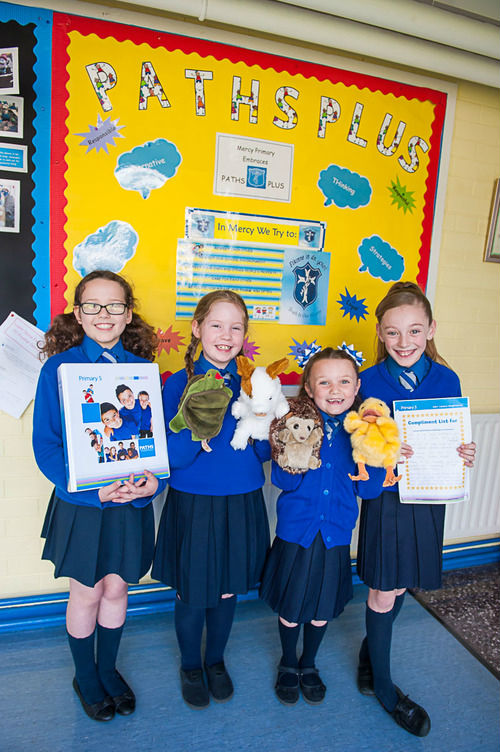 In Mercy Primary we teach the Paths Curriculum in each class from P1- P7.
We use puppets, stories and discussion to develop emotional literacy.
We have "Pupil of the Day" and compliment slips which go home and are shared with others.
We run friendship groups to enable children to explore their feelings and attitudes to others.
What is the PATHS® Curriculum?
The PATHS® Programme for Schools (UK Version) is designed for use with primary school children. The purposes of The PATHS® Programme for Schools (UK Version) are to enhance the social competence and social understanding of children, as well as to facilitate educational processes in the classroom. The PATHS®Programme for Schools (UK Version) has been adapted for a UK audience by Barnardo's NI.
The PATHS® Programme for Schools (UK Version) is a programme for educators and counsellors designed to facilitate the development of self-control, emotional awareness and interpersonal problem-solving skills. The programme consists of a variety of lessons, and additional materials and charts.
What Educational Objectives Does the PATHS® Curriculum Fill?
Increased self-control, i.e., the ability to stop and think before acting when upset or confronted with a conflict situation. Lessons in this area also teach identification of problem situations through recognition of "upset" feelings.
Contains processes that lead to an appropriate sense of self-responsibility.
Increased understanding and use of the vocabulary of logical reasoning and problem-solving, e.g., "if…then" and "why…because."
Increased understanding and use of the vocabulary of emotions and emotional states; e.g., excited, disappointed, confused, guilty, etc. Increased use of verbal mediation.
Increased ability to recognise and interpret similarities and differences in the feelings, reactions and points of view of self and others.
Increased understanding of how one's behaviour affects others.
Increased knowledge of, and skill in, the steps of social problem-solving: stopping and thinking; identifying problems and feelings; setting goals; generating alternative solutions; anticipating and evaluating consequences; planning, executing and evaluating a course of action; trying again if the first solution fails.
Increased ability to apply social problem-solving skills to prevent and/or resolve problems and conflicts in social interactions.
An effective social-cognitive programme is important because children often show difficulties in social problem-solving, self-control, affective understanding and self-esteem.
Mercy Primary School, 612 Crumlin Road Belfast County Antrim BT14 7GL | Telephone: 028 9039 1670


WEBSITE BY: SCHOOLWEBDESIGN.NET | Login